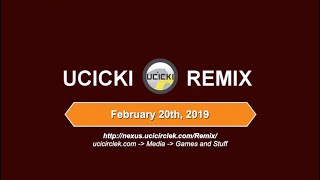 "UCICKI Remix" releases on February 20th, 2019! What a great day to show some love for a game I've been working on since early October. Check out the release updates about how to play the game on the website, and perhaps you may find some easter eggs and surprises along the way.
"UCICKI Remix" is the ultimate game developed for UCI Circle K, featuring all of the games currently on the UCI Circle K website. Master the 18 mini-games to build your skillset and dominate the world of UCI Circle K gaming.
I would like to thank everyone in the About section in this game (it's tremendously huge) for their contributions to their game. A special offline version of the game may appear in your inboxes in the near future. In particular, please also join me in extending thanks to technology chair Serjohn Pascual for his flexibility and support of this project!
I cannot say if this game will be supported with content updates after its release. After all, back in the day, "Millionaire: UCICKI Edition" and "Induction Night" had their share of big content updates as the quarter progressed. But rest be assured that the base game is full of content and completed to Serjohn's and my satisfaction; and perhaps if you apply for Appointed Board, it may inspire you to create a fun game for all of us in the next term.
Happy gaming!